23.6 Inches 3D Free Standing Electric Fireplace Stove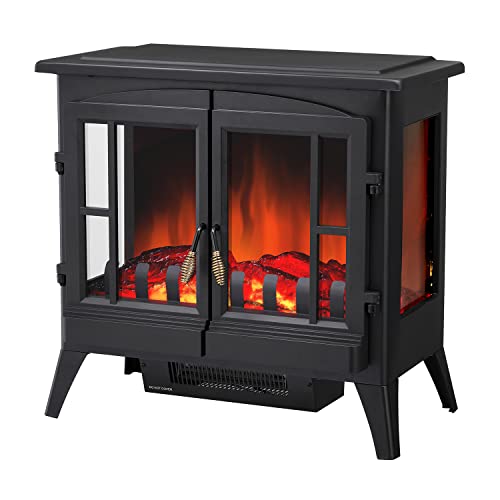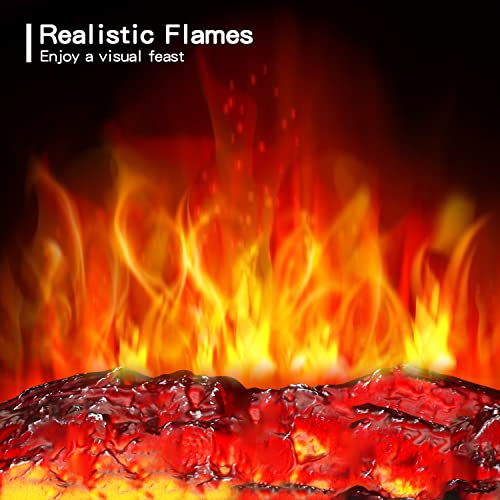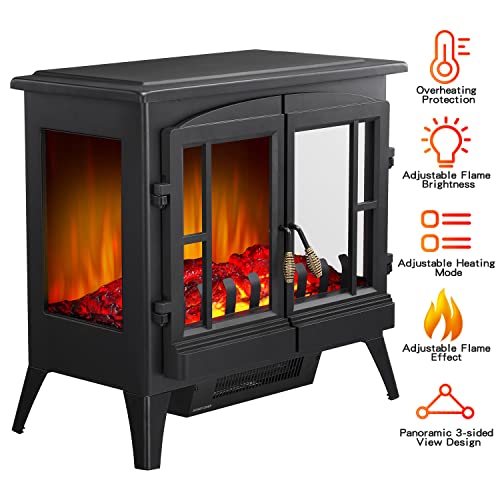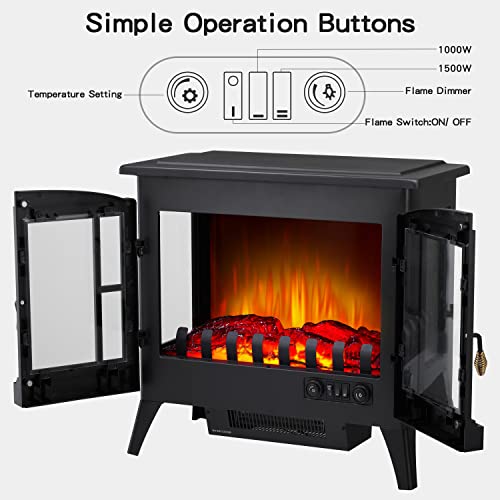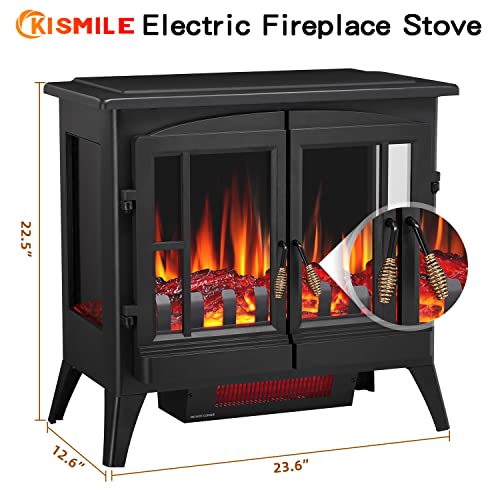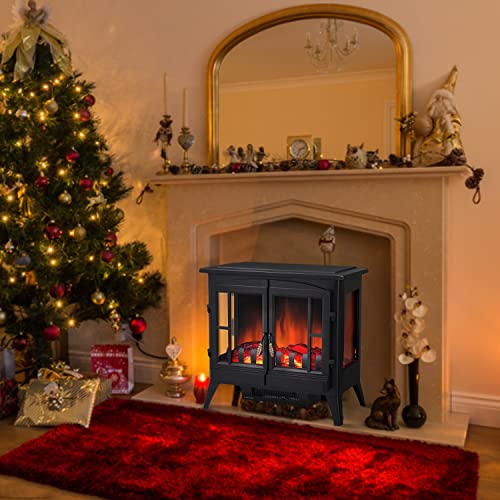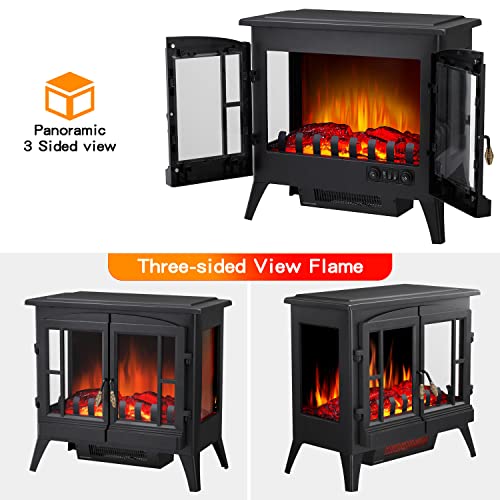 23.6 Inches 3D Free Standing Electric Fireplace Stove
Regular price
$19999
$199.99
Sale price
$14299
$142.99
Save $57
Portable & Lightweight - Made of special materials, it is strong enough while also portable, which is good for daily use.

Multiple Functions with Thermostat Control - Thermostat control adjusts the room temperature easily. It is easy to use.

Effective & Economical - It can heat up quickly just in 1s, and can warm up to a room of 400 Sq. Ft., which saves energy.

User-friendly Design - The handle is comfortable to grip, the magnetic door is to close tightly, and it stands sturdily.

Air Outlet & Overheating Protection - It is safe to use with air outlets designed to effectively avoid overheating.
Free shipping to US from US local stock in 2-7 working days
30-Day Money-Back Guarantee
Sign Up For A Extended Warranty
We offer FREE shipping to the contiguous 48 states in the US for all products. .
Please note the following:
Shipping to APO. Boxes is not available.
Shipping to Alaska, Hawaii, Puerto Rico, and International addresses is currently not available. Kindly contact us by support@kismile.com or +1 571-385-2829
*Please note that during national holidays, inventory shortages, shipping and customs delays, extreme weather, and other scenarios that we have no control over, chances of your delivery getting delayed are high. We will appreciate your patience during those times.contact us by support@kismile.com if you need hlep.
SHIPPING PROVIDER & TYPES:
We've partnered with UPS, FedEx, USPS, FdsExpress to ensure your order is delivered secure and on time.
We offer the following shipping types:
 The Delivery date shown on the shipping page is Ship Date + Transit Time = Delivery Date. This is when you should expect your item to be delivered. It is possible that your order will arrive sooner. 
Economy Shipping:5-8 

Business Days (free shipping)

Standard  Shipping: 3-4 Business Days(If you need

 

expedite

 

,please choose standard shipping, we will charge you extra $6.9 shipping fee,Please tick on the checkout page.)
*Due to the current situation with COVID-19, you may experience delays in delivery. We apologize for any inconvenience this may cause. We value our customers greatly and thank you for your patience and understanding during this time.
 * just contact us by support@kismile.com if you need help.
We ship orders within 24 hours on regular business days Monday - Friday (non-holidays) . Orders placed on weekends will ship on the following business day. All day transportation from Monday - Saturday.
SHIPPING ADDRESS MODIFICATION
Because we aim to fulfill orders as quickly as possible, after 12 p.m. PST each day, we cannot change the shipping address or other details on your order. You are welcome to return the item to us in accordance with our Return Policy.
Most orders placed before 12;00 a.m. PST will be shipped on the same business day. Orders placed after 12;00 a.m. PST will be shipped the following business day. Processing for these orders can take a few hours or longer depending on the volume of orders received on that day.
If you need your order delivered by a certain date, we recommend that you contact our customer service team by support@kismile.com to guarantee a ship date.
While we process your order, you may be contacted by a customer service representative to verify your order and billing information after purchase. If you cannot be reached, your order may be delayed. The best way to ensure there is no delay on your delivery, double check all information you enter during checkout.
SALES TAX
All products we offer are not include tax fee.So The final price you pay is product price plus tax fee.
INSPECTING YOUR ORDER WHEN IT ARRIVES
If your order shipped via freight carrier, please thoroughly inspect your item before signing for the package. We recommend that you verify the following items before signing the bill of landing:
MAKE SURE THAT YOU HAVE RECEIVED THE CORRECT ITEM.
Check to make sure that there is not damage to the packaging. If there is damage more than normal wear and tear that occurs in transit, this could indicate that your item was damaged during shipping.
If your order is correct and is in good condition, please sign for the package. However, if you did not receive the correct unit or find damage to the packaging, please refuse the package and contact our customer service team  by  support@kismile.com  We will provide you with additional instructions to get your order corrected.
 please
contact us
at:
support@kismile.com or (+1)863-535-5134 
Your satisfaction is our #1 priority here at Kismile. That's why we're pleased to offer a limited warranty that covers defects in material or workmanship on all new Kismile products. This warranty applies solely to the original purchaser and is non-transferable.  Only consumers purchasing  Kismile products from authorized Kismile retailers or resellers may benefit from our limited warranty.
WARRANTY TERMS:
During the first year, any components of this appliance found to be defective due to materials or workmanship will be replaced, at the manufacturer's discretion, at no charge to the original purchaser. The purchaser will be responsible for any removal or transportation costs.
We recommend that you keep the packaging your product arrived in so that you have the required packaging available in the event of a return.
WARRANTY EXCLUSIONS:
The warranty will not apply if damage is caused by any of the following: 
Power failure
Damage in transit or when moving the appliance
Improper power supply such as low voltage, defective household wiring or inadequate fuses
Accident, alteration, misuse or abuse of the appliance such as using non-approved accessories, inadequate air circulation in the room or abnormal operating conditions (extreme temperatures)
Use in commercial or industrial applications
Fire, water damage, theft, war, riot, hostility or acts of God such as hurricanes, floods, etc.
Use of force or damage caused by external influences
Partially or completely dismantled appliances
Blemished and remanufactured appliances have a 90-day warranty
OBTAINING SERVICE:
When making a warranty claim, please have the original bill of purchase with purchase date available. The purchaser will be responsible for any removal or transportation costs. Replacement parts and/or units will be new, re-manufactured or refurbished and is subject to the manufacturer's discretion.
For technical support and warranty service, please contact us at:   support@kismile.com or +1 571-385-2829
Liquid error (snippets/image-element line 101): invalid url input
---