Why do we need a Gas Grill at home?
Cook BBQ fast Anywhere
 There is no comparison in cooking with grills and others. The gas grill takes less time in cooking so you can go for another work. 34,000 BTU grill heats up quickly, allowing you to enjoy delicious food in a matter of minutes. If you are in a hurry, the grill also saves the day. The quick ignition and heating rate make the cook fast and saves you money and time. Also, you can cook Anywhere. 
Temperature is easy to control
 When you are in the grilling process, you may need to control the heat, like sometimes you will need low heat or high heat. With the gas grill, it is easy to control the temperature because it has an adjustable knob. The other grill, for example, the charcoal grill, requires enough airflow to control the temperature, and that is not easy compared to the gas grill knob.
Safe to use
A gas grill doesn't produce carbon flames while cooking like charcoal grills. The flame creates a breathing problem and ashes around your place. You will face this type of problem by using a gas grill.
Comfortable
The gas grill is easy and convenient to use. The charcoal grill requires hard work to start where the gas grill starts immediately. The young generation goes for a gas grill then the charcoal one.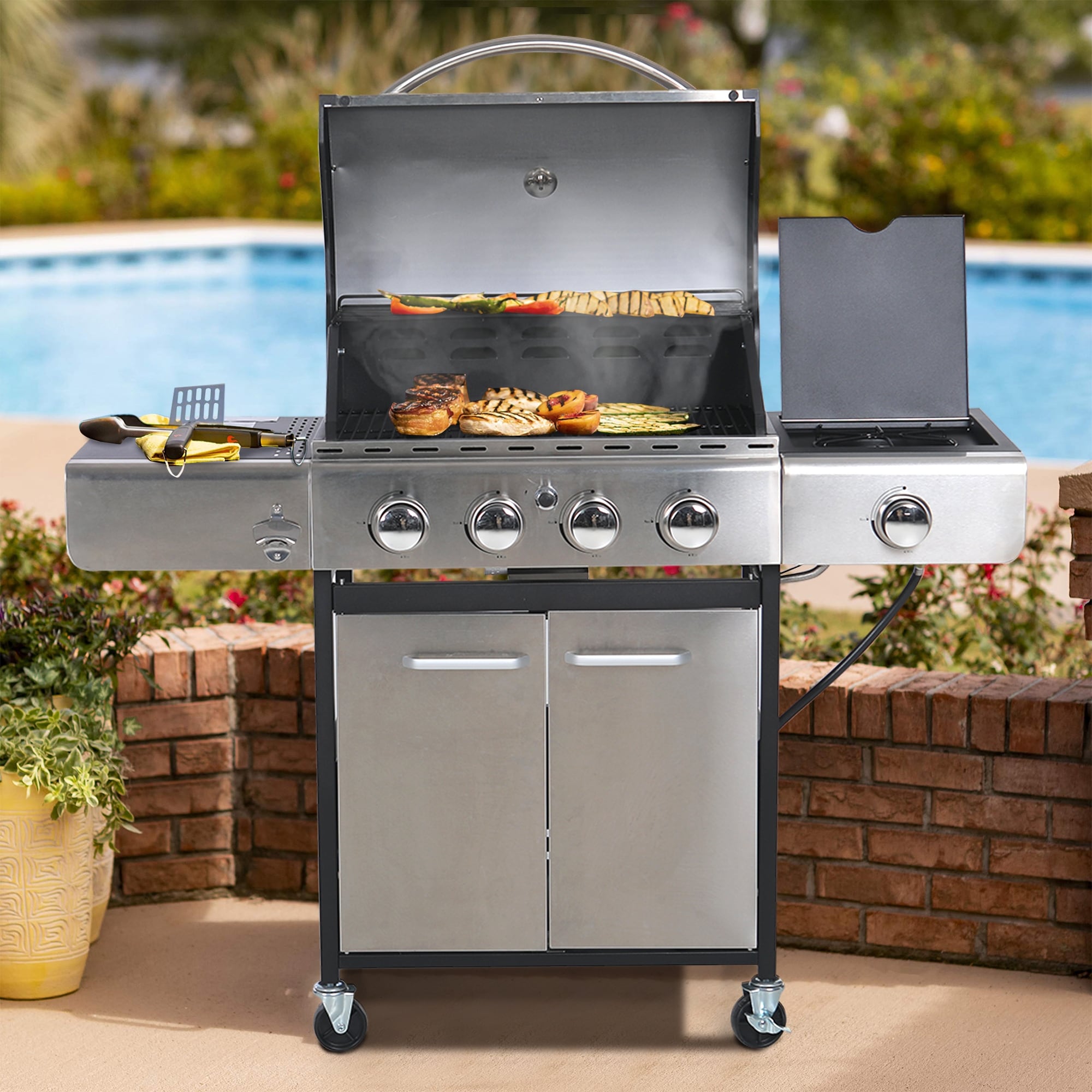 Cooking is easy
Good food requires efficient temperature and heat. With a gas grill, you can cook anything perfectly with sufficient heat and temperature. With the charcoal grill, it is hard to manage the temperature and heat. But by using a gas grill, you can cook delicious food at low temperatures.
Healthy food
 The food you will prepare on a gas grill comes in low fat and calories. Fried food has many heal risks like obesity and heart problems, whereas grilled food doesn't have these risks. The gas grill sucks the extra fat when it is cooked at a low temperature, and after the cooking, you will have low-calorie grilled food on your plate.
Other Recipes
Our grill can be used to prepare breakfast, lunch, and dinner for the entire family. It's ideal for preparing eggs, pancakes, bacon, steak, potatoes, and other grilled foods. You can also enjoy your BBQ time on the patio, garden, or backyard, among other places.
Environment-friendly
 A Smokey environment is a common scenario while you are grilling. But with the gas grill, it will not produce much smoke. The environment stays fresh, and your friends and families will enjoy the cooking and grilling without choking or teary eyes at the smoke. The aroma and nature will make your party enjoyable.
Longer heat-up time
Charcoal grills, on average, take about 15-20 minutes to reach the proper cooking temperature (not including the time it takes to light the charcoal), whereas gas grills instantly light up and take about 10 minutes to reach the cooking temperature.
Better for you and the environment
It's scientifically proven! In regards to your health, The Healthy says opt for a gas grill. Why? Because gas-grilled meats contain fewer carcinogens compared to char-kissed charcoal-grilled meats. As for the environment, it's been studied that gas grills' carbon footprint is about one-third of charcoal grills' carbon footprint.
Versatility
With a gas grill, you can easily cook delicate foods such as fruit and vegetables without the worry of overpowering the food with the smoke flavor that comes along with charcoal grilling. Catherine Ward, Taste of Home's Prep Kitchen Manager, recommends using a gas grill for fish and shellfish because you still get that nice grilled flavor without any added smoke.
More eco-friendly
Grilling with gas is actually better for your overall health because food that's prepared on gas-powered appliances contains fewer carcinogens compared to dishes that have been on a charcoal cooking surface. Gas grills also have a significantly smaller carbon footprint that's about a third of a charcoal grill.
Extremely versatile
Gas grills provide you with the ultimate cooking versatility with the ability to prepare delicate vegetables and fruits without any smoke overpowering them while also enjoying intricate cuts of meat that are always cooked to perfection.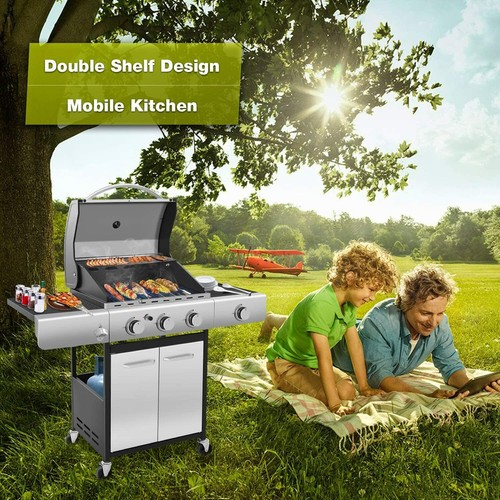 Mobility
Gas grills are heavy and sometimes quite large, thus not easily moved around. If you need a grill for tailgating or camping out under the stars, a gas unit might not be the best choice.
Safety precautions
While there are obviously safety measures that come with operating any cooking appliance, grilling with gas presents possible dangers that might not always be apparent. While the flame is safer to control than sparking up coals, you must still be extremely cautious that the propane tank is properly installed and not leaking. Any type of grill should be placed at least 10 feet away from your home or backyard patio or deck, and the grates need to be regularly scrubbed in order to prevent grease-related fires.
Gas Grills Are Easy To Clean
Some grills can be messy and difficult to clean. With a gas grill, you can easily clean both the grates and empty the grease trap hassle-free.
---